Murder Mystery
Can you find the murderer?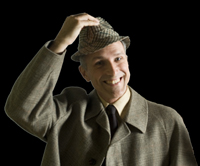 It is Friday 13th September 1957. A woman has been found murdered in the Stagga Home public house. She has been shot dead with a submachine gun. Follow the crime reports, witness statements and suspect interviews and see if you can find the motive, the murder weapon and ultimately find the murderer. Various reports will be released over the course of the next few weeks, enabling you to build up the evidence and get the full picture. This murder has been brought to you be Hothouse Theatre's youth group. In the first instalment, we have the initial news report, the police crime scene report and a witness statement from the landlord of the pub. Watch out for the next update with more clues and red herrings!
Part 1
News Report
Friday 13th, September, 1957
There has been a murder in the Stagga Home public house. The woman was gunned down in cold blood, and the police are baffled.
Crime Scene Report
Detective Sgt. Noseman arrives at Police Headquarters just in time to give his initial Crime Scene Report. Every detail, at this point, could be a clue that leads to solving of the crime and the apprehension of the murderer.
Landlord Witness Statement
Landlord of the Stagga Home public house, gives his witness statement. He was the last person to see the murdered woman alive ... apart from the murderer.
Part 2
Coming soon in part2, Forensic Report, another witness statement and the first musings of the investigating Plod, Detective Inspector Clueless of the Yard.