Ukraine.
News and how to help and donate in and around Nottingham
This is our page for all thing relating to Ukraine. It will include news, notice of demonstrations, place to donate money, clothes toiletries etc It will be updated on a daily basis as long as it is needed. Please support projects and initiatives as much as you can.
Russian Journalist to Auction Nobel Medal to Benefit Ukraine
New York Times
Dmitri A. Muratov, whose newspaper was shuttered in response to the Kremlin's increasingly draconian censorship, will donate the proceeds to Ukrainian refugees.
click here
A heroic Ukraine roused a performance of spirit, endeavour and courage to stun Scotland and earn a historic World Cup play-off final against Wales
BBC
With their country enshrouded in trauma amid the ongoing war with Russia, a team hauled together shone brightly at a sun-drenched Hampden.
click here
8 feel good stories from the conflict in Ukraine that will inspire and give you hope in humanity
Knews
From charities and governments to celebrities and everyday people, millions are pitching in to ease the burden for fleeing or sheltering Ukrainians. In turn, they're inspiring the world with their generosity and strength.
click here
Kalush Orchestra - Stefania Wins Euro Vision for Ukraine
Grand Final - Eurovision 2022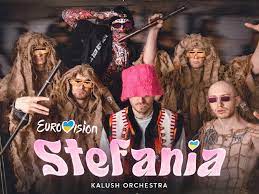 "Stefania" (Ukrainian: Стефанія, (listen)) is a 2022 song by Ukrainian folk-rap group Kalush Orchestra. The song represented Ukraine at the Eurovision Song Contest 2022, after the winner of Vidbir 2022, Alina Pash, withdrew her candidacy after being questioned as a legitimate participant. It is the third song sung entirely in Ukrainian to represent the country at Eurovision, but the second to actually compete at the contest. It won the contest with 631 points, making it the first song sung entirely in Ukrainian and the first rap song to win.
Wikipedia
click here
Soyuzivka's Support Ukraine Festival: July 15-17, 2022
Soyuzivka
Join Soyuzivka for live performances this July 15-17, 2022, including vendors, arts & crafts, games, music and much more as we Support Ukraine!
click here
Ukraine: No to war! Resist all militarism!
Peace Pledge Union
The Peace Pledge Union stands in solidarity with peace campaigners in Ukraine, Russia and throughout the world who are resisting the war in Ukraine. Renouncing all war and condemning the invasion of Ukraine, we stand against both Russian militarism and NATO militarism.
click here
3 stories of how strangers are helping Ukrainian refugees
Alongside the horror and despair of the Russian invasion of Ukraine, there are stories of hope and humanity, as strangers are stepping up to help refugees.
click here
9 Acts of Kindness Towards Ukraine's People That Will Give You Hope
Global Citizen
There's no two ways about it, the news has felt like a lot lately. Between the 2 a.m. doomscroll and the intravenous flow of heartbreaking headlines, it can feel like the world is rapidly rolling towards annihilation. That's why it's so important to take a moment to acknowledge all of the ordinary people who are out there doing good in the world.
click here
Nottingham March, 19th March 2022
On Saturday 19th March, Nottingham held a march in support of the people of Ukraine. Over 400 people took part in the march, which went from the Robin Hood statue, round the centre of town, and ended up at the Brian Clough Statue. A group of young people recorded the event for an Oh My Nottz report. Here is the slideshow made up of some of the photos they took.
Ukrainian celebrity chef offers free gourmet meal to refugees
DW News
This Ukrainian celebrity chef is offering a free gourmet meal to refugees arriving in Lviv. DW News
click here
Ukrainian kangaroos rescue captures world's heart
News AU
A Ukrainian man has braved heavy Russian shelling to rescue 10 kangaroos that were trapped in a zoo in Kharkiv.
click here
Forced to flee Ukraine, a Syrian student is reunited with his parents in UK
The National News UK
When Naeem Hijazi heard the rockets and missiles landing in Kharkiv, Ukraine, he could not believe he was going to have to escape yet another war. The Syrian medical student had arrived in Ukraine only two months earlier after fleeing conflicts in Sudan and Syria before that.
click here