Things not to miss this month
Rough Crossing
Lace Market Theatre
Mon 25 Jun 2018 to Sat 30 Jun 2018 by Tom Stoppard; from an original play by Ferenc Molnar All is not well aboard the SS Italian Castle for renowned Hungarian playwrights Sandor Turai and Alex Gal. They have only the crossing from Cherbourg to New York to perfect their latest musical. A task made harder when their married leading man is caught in flagrante with their leading lady, and her fiance, the composer threatens to jump ship... Set in the 1930s, this hilarious play is screwball comedy meets Tom Stoppard's typical sophisticated wit. Bon voyage!!
Click here
for more info and to book tickets.
The Ghost Train
by Arnold Ridley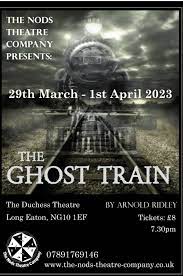 Robin Hood Theatre Averham
19 to 23 June 2018 Inspired to write this play in 1923 after becoming stranded overnight at Mangotsfield railway station, it took Arnold Ridley, English actor and playwright, only one week to write The Ghost Train. The play ran for over a year and sold out in its original London theatrical run. It is now regarded as a modern classic.
Click here
for more info and to book tickets.