Things not to miss this month
Alice's Adventures in Wonderland
Creswell Crags
Friday 10th August 2018
Doors: 5.30pm | Performance 6.30pm Take a trip down the rabbit hole with Chapterhouse Theatre Company this summer as they present the classic tale of Alice's Adventures in Wonderland. Join Alice as she stumbles into the magical world of Wonderland and meet a whole host of colourful characters. From the unforgettable White Rabbit and the madcap Mad Hatter to the terrifying Queen of Hearts, Alice's journey couldn't be filled with more adventure.
Click here
for more info.
A Midsummer Night's Dream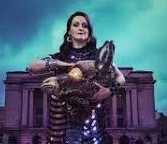 Newstead Abbey
Sunday 12th August | Doors: 6pm Chapterhouse Theatre Company presents Shakespeare's best-loved romantic comedy. Let yourself be whisked away on a thrilling journey to the most magical of forests and meet star-crossed lovers, playful fairies and hilarious travelling players.
Click here
for more info.
The Hound of the Baskervilles
Wollaton Park 19 Aug 2018 Who killed Sir Charles Baskerville? Can anyone prevent the same fate befalling the young Sir Henry Baskerville? Is a monstrous hound really roaming Dartmoor? Why is someone systematically stealing Sir Henry's shoes? And how does a ghostly hound manage to leave vast paw-prints and other unwelcome evidence of its existence?
Click here
for more info and to book tickets.