Open Bridges Trailer
Category - Advert or Trailer
Open Bridges made history when for the first time all 13 bridges over the River Hull raised, swung and closed simultaneously during Hull City of Culture's Freedom Season. Historic vessels sailed down the river, met by 21st century tugs, to the sound of a new musique concrète work.
Filmmaker Rich & Lou Duffy-Howard
East Yorkshire
Judges' notes
A beautiful short film combining night shots with atmospheric music.
Dream
Category - Fictional Film
A short story inspired by a dream, about relationships and reuniting with an ex. The first film made by Nice Cake Productions, with Helen Lewis, Nance Turner and Dean Hampton-Williams and soundtrack by Sam Mitchell. Filmmaker Helen Lewis
York
Judges' notes
This intriguing approach to story telling with film leaves you feeling that something more sinister is going on.
The Brirckyard Clown
Category - Young Person's Film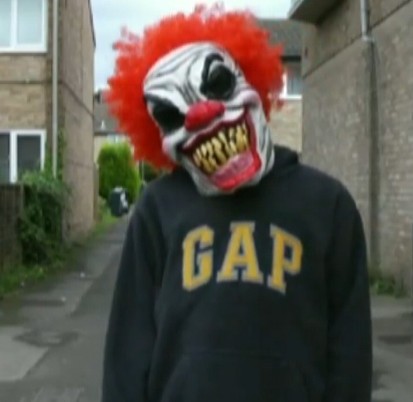 It is getting harder and harder to tell fake news from the real thing these days, so much so that even presidents are now getting their underwear in a twist over the difference between earth shattering revelations and a good old fashioned joke. So just to make everything totally clear, The Brickyard Clown is one of them and not one of the others. Filmmaker The Brickyard Film Club
Nottingham
Judges' notes
A funny response to the 'scary clown' fad. Some nice effects and acting from the young people involved.
The Smith Challenge
The Smith Family are raising £5,000 for the Earl Mountbatten Hospice inmemory of Andy who died in February.
donate here
Overactive Imagination
Category - Animated Film
Kyler Bird visits a psychologist about his life's constant disturbances, but he can't bring himself to reveal the truth behind them.
Filmmaker Gemma Bright
Ilkeston, Derbyshire
Judges' notes
A witty and imaginative animation using a simple style.
Inemuri
Category - Artistic Film
My film 'Inemuri' is about connections that exist between us all and all those that permeates through everything in this world
Filmmaker Mamun Humayun
Harrow
Judges' notes
Top class filmmaking coming together to create an uplifting and positive experience.
Hothouse Theatre's NottinghamFilm Festival 2019
Help Hothouse Theatre to raise the funds for the Nottingham Film Festival 2019. It will be the 4th Hothouse Theatre film festival. Hothouse Theatre's Nottingham Film festival gives young people a chance to be involved with the running an international film festival
donate here
Sticks & Feathers
Category - Factual Film
Jac Horwood, a Welsh international hockey player and Edge University captain, uses his talent of sport to help grieve and come to terms with the death of his father, who passed away when Jac was just 5 years old. Filmmaker Thomas Griffiths
Llangollen, Wales
Judges' notes
A well crafted documentary looking at a young man's insecurities.
No Fly Zone
Category - Music Film
I asked Maggie de Bruin to write a song about a boy who may have autism but he still wants to connect. "The Blind and The Ghosts" is the perfect soundtrack for his film about connecting to the world in- and outside. Everything is filmed with a drone.
Filmmaker Annemarie Libbers
Netherlands
Judges' notes
An outstanding use of technology to tell a story set to music.
The Wizard Film
Category - Young Person's Film
When a new neighbour moves in, you don't always know just who they are.
Filmmaker Brickyard Film Club
Nottingham
Judges' notes
Pushing the boundaries of the amount of lunacy that can be created in 3 days of filmmaking.
Hothouse Theatre's Nottingham Film Festival Final
Sunday 8th July at Bulwell United Reformed church Broomhill Rd, Nottingham NG6 9GJ
Click here to find out more
The next 2 films will be shown separately because they are a bit scary and not appropriate for under 15s.
Selfie
Scary warning
Category - Fictional Film
A woman is haunted by a strange figure in her Selfie photos. Filmmaker: Geoff Harmer
Basingstoke, Hants
Judges' notes
Very clever use of the modern obsession with the selfie to create a scary film.
DEVIL'S REFLECTION
scary warning
Category - Foreign Language Film
Isabel, a young student, will unleash a series of paranormal events after desecrating an ancient set of enchanted mirrors and awakening the evil spirit of Aluca, a demon who will try to seduce her into suicide. Filmmaker Fernando Perezgil
México
Judges' notes
A haunting horror that uses all the tricks of the genre to create a chilling atmosphere.